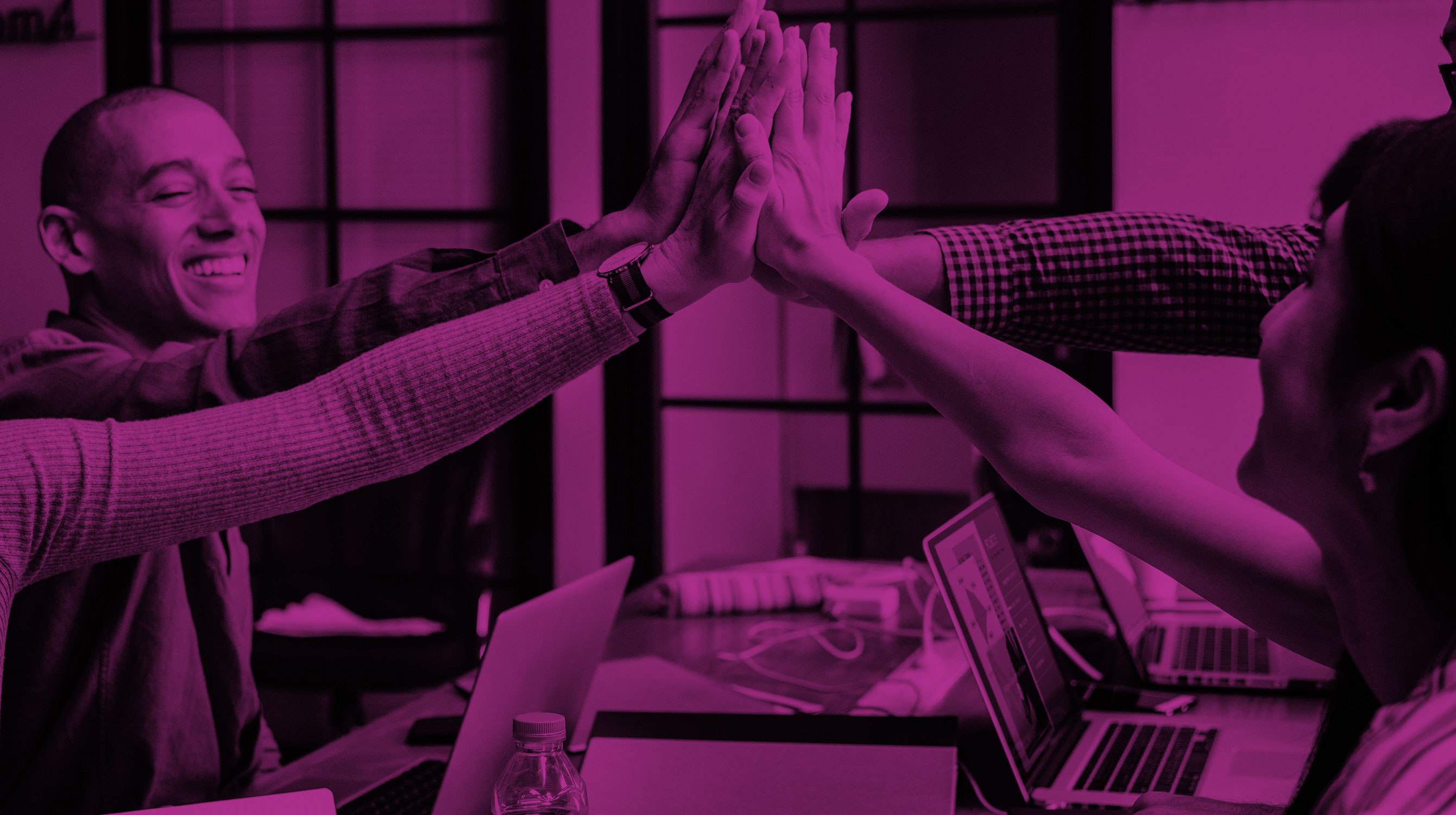 4
MANifest Change provides training to people of all genders that deepens men's involvement in creating healthier, more productive workplaces where everybody feels safe. Our training can be applied to inward-facing culture change efforts as well as outward-facing client service.
"MANifest Change has helped me reshape the conversation on how to prevent gender-based violence in the Canadian Armed Forces and support the development of an advance programme for change. The training and coaching has armed me with a more adept toolset to facilitate positive discussions and about creating a more safe and respectful workplace."
Royal Canadian Navy
"The MANifest Change training has given me the tools necessary to create a lasting and adapted school program, centered on a strength based approach, that will push young men to stand up against gender based violence. As a result, teachers have become much more open to discussing this with their students, leading to a much more inclusive atmosphere in class."
Counselor - Student Well-being and Safety, Conseil des écoles publiques de l'Est de l'Ontario
"I see a gap in people's thinking about the depth of the impact of gender-based violence on marginalized populations. The topic of intersectionality and the social determinants of health is where I see people making the biggest gains from the MANifest Change conversations."
Special Projects Officer, Office of the Vice-President (Students and Enrolment), Carleton University
"MANifest Change training really helped me to understand more about gender-based violence and it helped me to serve my clients who are newcomers to Canada better."
Multicultural Liaison Officer, Ottawa Community Immigrant Services Organization
"Colleagues are having more open conversations about gender-based violence and showing up to awareness-raising events about GBV in the workplace."
Professor of Systems and Computer Engineering, Director of Research and Education in Accessibility, Design and Innovation, Carleton University
Previous
Next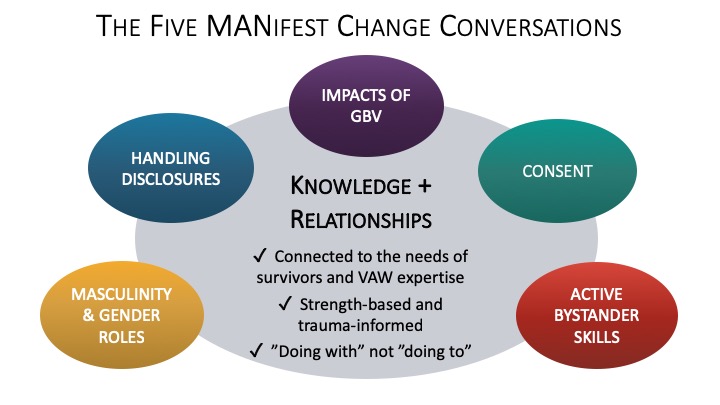 What is the role of men in preventing sexual harassment, sexual assault and the effects of partner abuse in the workplace?
Most men see ourselves as having a role and a responsibility to address these issues at work, but we don't always have the knowledge or skills to recognize common situations of GBV or to deal with them safely and effectively. We assess your needs by asking "how can men in your workplace support your GBV prevention strategy?" This requires men to work together with women and LGBTQ2IS colleagues. MANifest Change teaches new knowledge and skills in a way that can transform the relationship between genders in the workplace.
Learn to initiate the Five MANifest Change conversations informally or in a structured learning environment. Whether it's office banter among peers, a coaching session between a manager and an employee, or a series of professional development workshops, the MANifest Change conversations offer a way to self-reflect, put our highest values into action and challenge harmful behaviour.
Our workplace training is appropriate for teams providing direct service to the public as well as leaders responsible for ensuring a safe workplace environment.
We have delivered MANifest Change to thousands of people of all genders. The training is most effective when participants spend time learning with people of their own gender and then come together to consolidate their knowledge. Care is taken to create a safe learning environment in which participants choose how much or how little to participate. Some report that these are the most honest talks they have ever had with people of other genders.
MANifest Change invites men to take a role as allies to women and LGBTQ2IS folks in the primary prevention of GBV. While we acknowledge the ways in which men both experience violence and use violence, MANifest Change is not a remedy for addressing egregiously harmful behaviour, nor does it offer therapeutic healing to survivors of GBV.
MANifest Change has trained dozens of facilitators in over 30 community agencies and universities. Our training helps managers and staff
Recognize common situations of GBV in the workplace instead of seeing them as normal and inevitable

Apply policy in ways that recognize the effects of GBV on employees and clients
Improve their ability to assess workplace safety issues
Skillfully and productively engage in sensitive conversations about GBV with colleagues and clients rather than "walking on eggshells"
Create an environment that is understanding of the experience of sexual harassment and thus more welcoming for people to seek support and/or report harmful behaviour
Training participants report that men are more active in creating a safe workplace environment as a result of participation in the MANifest Change conversations. Qualitative evaluation shows that after our training, men are less likely to hold to unhealthy beliefs about masculinity and more likely to speak up in common situations of GBV.
Yes, we can. We start by meeting with you to understand your needs and the climate of your workplace. OCTEVAW staff deliver a pilot workshop or the full workshop series directly to your organization. The series can be offered as professional development sessions of 1.5 - 2 hours or in a less formal "lunch and learn" format.
MANifest Change Facilitator Training and Coaching adds value for organizations with a mandate for community safety or providing direct service to populations affected by GBV. Facilitator Training and Coaching can also be part of culture change efforts to engage male-identifying staff in creating a workplace environment free from sexual harassment and other forms of GBV. Our work with leaders at Carleton University illustrates the process.
A gender-balanced OCTEVAW staff team will train key influencers in your organization as MANifest Change Facilitators. The Facilitators initiate formal or informal MANifest Change conversations with peers and/or clients that increase men's capacity to actively address GBV in the workplace. Facilitators may be people of any gender, though a core group of male-identifying people is essential. We start by meeting with you to understand your needs and the climate of your workplace.
Identify, screen and invite key influencers to become MANifest Change Facilitators
21 hours of facilitator training (delivered in a 3 day block or in spaced sessions)
Facilitators begin to initiate the MANifest Change conversations in the workplace
As the facilitators put their skills into action, OCTEVAW staff coach them through common pitfalls and build on success (2 half day sessions within 3 months of training)
Impact evaluation
MANifest Change is based on close collaboration between male allies, women survivors and GBV experts. If your organization includes survivor-informed GBV expertise, it may be appropriate to coach your internal experts as trainers of MANifest Change Facilitators.
Get in touch to discuss your needs and budget. We offer a sliding scale for community organizations.